E-Commerce Packages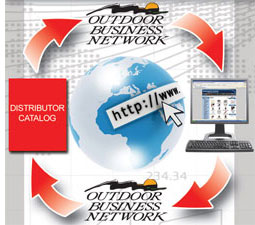 Outdoor Business Network can provide your business with an e-Commerce package that utilizes one or more of our affiliated distributor's product catalog and a live inventory feed. These websites will allow you to offer the distributor's products online and to create a profitable expansion of the business, while creating a professional image to new and old customers alike. Each website is individually created to match your current branding and online products are represented as your own inventory.
Let's face it. You need to focus on running your business' daily operations, not trying to be a web designer or programmer. That is where we step in. Our goal is, with just a little input from you, to have an e-commerce website up and running for you within your budget. We know your business, we know your industry, we work with your suppliers, and we know online design, marketing, and e-commerce best practices.
Let Us:
Design a website to increase your brand value, trust, and ROI
Integrate your suppliers inventory, so your customers can see your full selection
Make shipping easy with 1-Click-To-Ship supplier drop shipping
Make accepting payments easy with integrated industry friendly payment modules
Give you freedom to do business, merchandize, market, and sell your way
Train you, to make you a better online retailer
Package Features Include:
Initial web page set-up & design from our standard templates, training on operation, marketing, and effective use of all aspects of our services. The templates will include seven pre-determined pages: Home/Catalog, About the Company, Contact Information, Shipping & Ordering Information, Privacy Policy, Legal notices, & Specials. Additional pages can be added by the business as needed.
We have launched Version 6.0 of our proprietary e-commerce software on a completely new platform, CloudCommerce. With it, we decided it needed a completely new website to represent it. Take a tour at www.cloudcommerce.org or reach out to one of our engineers to answer your questions.
Want to learn more, visit our secure client area. View our knowledgebase, FAQ's, and training materials here. During and after your onboarding process, you can log in to view your project status, create support requests, manage domain names and SSL certificates, manage payments, view invoices, and more. Don't forget, we have english speaking USA (Ohio) based support staff to help you through the process and answer your questions. We are here to help! Visit our Client Area
Basic

Pricing: Contact us for pricing and demo.

Outdoor Business Network's Basic Informational and E-Commerce package is a featured packed commerce suite that is the perfect starting point for your small business. Included is everything you need to begin your online expansion. The Basic E-Commerce web site is custom designed to match your existing brand and enhance your business. It can be used as solely an information outlet for your business, or you can utilize the embedded e-commerce features to expand your presence on the web. Just add your own products and start selling.

Compare

Gold

Pricing: Contact us for pricing and demo.

Our Gold E-Commerce package is the launching point for many new e-commerce retailers. Over 500 retailers have used this solution nationwide. It includes all of the features of our Basic package, plus an integrated distributor product feed and One Click to Ship (TM) fulfillment. These websites will allow you to offer the distributor's products online and to create a profitable expansion of the business, while creating a professional image to new and old customers alike. Each website is individually created to match your current branding and online products are represented as your own inventory

Compare

Platinum

Pricing: Contact us for pricing and demo.

Just one step down from our Enterprise package, the Platinum package includes almost every feature available to our e-commerce clients just as it's big brother does. However we have "lightened" up some of the extra services to make things a bit more economical to the do-it-yourselfer.

Compare

Enterprise

Pricing: Contact us for pricing and demo.

This is quite frankly the Ultimate in E-commerce performance, features, and services for the Outdoor Retailer. The ultimate package includes almost every feature available, as well as unlimited support. That's right, unlimited. OBN is at your service to provide design, training, and support related services. Want new specials on your home page, it is just one call away.

Compare
Call Now for a No Obligation Demonstration and E-Commerce Evaluation
1-800-699-0820 ext. 1